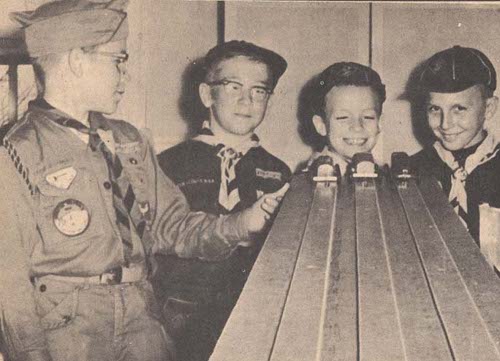 Pinewood Derby is soon to start, the kit have been handed out and its time for the boys and parents to start carving out their designs! Below are the event details.
Date: Friday January 25th, 2013
Time: Doors open @ 6:00pm ( 1st Time Trials are estimated to start @ 6:15pm – We may change this to have a specific dens report in at this time)
Location: Queen of Angels Church Basement, 2330 W Sunnyside Avenue Chicago, IL 60625
RULES:
The spirit of the Cub Scout Race is to allow the boys to "do their best" and create , design & build their own car as much as possible with full adult supervision, but limited adult "hands on" as much as possible.
The rules are officially posted always here on website, should anything change.  Last Published date 12/10/2012. The following PDF link contains the new rules, so please be familiar with them. https://chicagocubscouts.com/documents/Pack3894 2013 Rules.pdf
CHANGES:
The 12 "design" awards that the boys can target their concept and design ideas around to try and win this award. We have structured the Awards around the 12 Monthly Core Values of Cub Scouting.
| | |
| --- | --- |
| Design Awards | Monthly Core Value |
| Best Design | Responsibility |
| Best Detail | Perseverance |
| Best Paint Job | Positive Attitude |
| Best Scout Theme | Respect |
| Best Workmanship | Cooperation |
| Cubmaster's Pick | Compassion |
| Most Aerodynamic | Health & Fitness |
| Most Innovative | Resourcefullness |
| Most Patriotic | Citizenship |
| Most Realistic | Honesty |
| Most Unique | Courage |
| Best in Show / Judge's Favorite | Faith |
FORMAT
Time Trials between each Den will occur first. We need to allow for all boys cars to run on each track for fairness. The top speed finishers in the Dens will then face-off for Top 3 Den Winners.  This will occur until ALL Dens have concluded their winners.  During the Races, Judges will determine the design award winners.
The Top 2 Den Winners from Each Den will be entered in the Pack Championship Heats, where the same system of top speed finishers narrows down. Top 3 Pack Winners will be determined, as well as Top 3 Den and Pack Design Winners. Note** One award per boy per Pinewood Derby ( no chance of one boy winning more than one design award). We are working on a Pinewood Derby Judging Committee that falls outside the Parents, to make things fair for all. The overall winner brings home a Pizza Party for their Den.
ADULT HELP & ADULT PINEWOOD DERBY
There is a place for Adults to be totally hands on with their own Pinewood Derby Car!! A local Adult Pinewood derby event will be held soon, this will allow you to test your son's car prior to the race, you should go check it out! Or if you are a procrastinator you can still go to this event and learn tips on how cars are constructed.  More information coming..SAVE DATE  — Saturday Jan. 19th @ 6pm.
Check back on this link for more information should we need assistance at Pack PW Derby.
We will be inviting guest to this event, including the upcoming Kindergarten Classes (boys & their families) to share in the fun. In the past we have used this event to recruit new scouts into the pack.
No Comments
No comments yet.
Leave a comment
You must be logged in to post a comment.