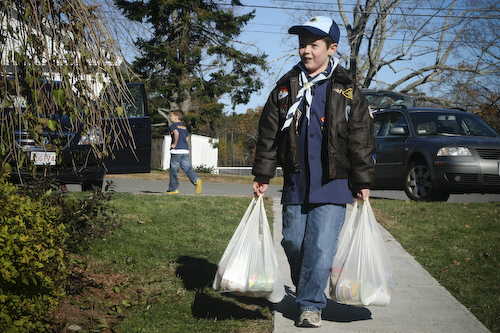 UPDATE – 12/12/2011 – Thanks to All who participated by dropping off their share for this food drive. Below were the list of Scouts who participated:
Aidan Bradley

 
Avery Norback

 
Blake Resendiz

 
Bobby Racila

 
Charlie Galloway

 
Connel Cunningham

 
Cristian De La Cruz

 
Dylan Bradley

 
Emmet O'Brien

 
Eric Panarese

 
Holden Austen

 
Hunter Austen

 
Ian Thomas

 
Ian Winters

 
Jack Glick

 
Jack McCarthy

 
Joseph Hartman

 
Josiah Luby

 
Liam Correa

 
Liam White

 
Luke Sellers

 
Maximilian Barrios

 
Maximo Castillo

 
Michael Dugard

 
Oliver Chermansky

 
Owen Krappman

 
Patrick McCabe

 
Peter Flynn

 
Presley Herschel/Bloze

 
Roan Thomas

 
Robert Rojas

 
Sebastian Bell

 
Simon Bautista

 
Steven Reyes

 
Van Immonen

 
Will DeCaigny

 
Will Hartmann

 
The Scouting For Food program is a city-wide food collection program conducted inpartnership with the Chicago Food Depository. The program will be conducted during the firsttwo weeks of December by several thousand Scouts. The Scouts will be collecting fooddonations and delivering the food to their district collection site. The food will then betransported to the Chicago Food Depository for distribution to local food pantries.
In the Law of the Pack, a Cub Scout gives good will and in the Boy Scout Promise, a Boy Scout promises to help other people at all times. By participating in the Scouting for Food program, Scouts fulfill these words and assist needy neighbors.
Objectives
The Scouting For Food program has several objectives:
1. Help provide food for needy families.
2. Teach young people the value and importance of serving the community and helping their neighbors.
3. Provide and opportunity for the Chicago Area Council to give back to the community.
4. Provide visibility for Scouting.
Just a reminder that Saturday, December 3rd is Bag Distribution for the Scouting for Food program.  We have some rules from the Area Council:
1. Scouts must have adult supervision.
2. Under no circumstances are scouts to enter any homes or buildings.
3. Do not ring doorbells or knock on doors.
4. Hang bags on doorknobs. Do not place in mailboxes.
5. Scouts should wear uniforms or other Scout identification.
6. Do not distribute bags after dark.
7. Record streets where bags are distributed so you can recall locations for collecting day.
There are thank you cards available at www.chicagocubscouts.com/documents/ScoutforFood_Thanks.pdf Please print these out and insert them into the bags or deliver them when you pick up the food.  Bag Collection is on Saturday, December 10.  After you collect the food, bring it to St. Matthias Church/School, 4910 N. Claremont Ave.  We will be there between 10 AM to 1 PM.  We will take a Pack picture at 11:00 AM if you can make it, but you can drop the food off anytime between 10 and 1.  Please let  your Den Leader know if you have any questions or concerns.  We have extra bags if you need them.
Thanks for all your efforts
No Comments
No comments yet.
Leave a comment
You must be logged in to post a comment.